This morning we announced that Econet had hiked their voice call tariffs to an effective $0.834 per minute up from $0.48 which every network operator was charging. We speculated that the other two members of the trio, NetOne and Telecel would soon follow suit as these hikes usually come with POTRAZ's blessing.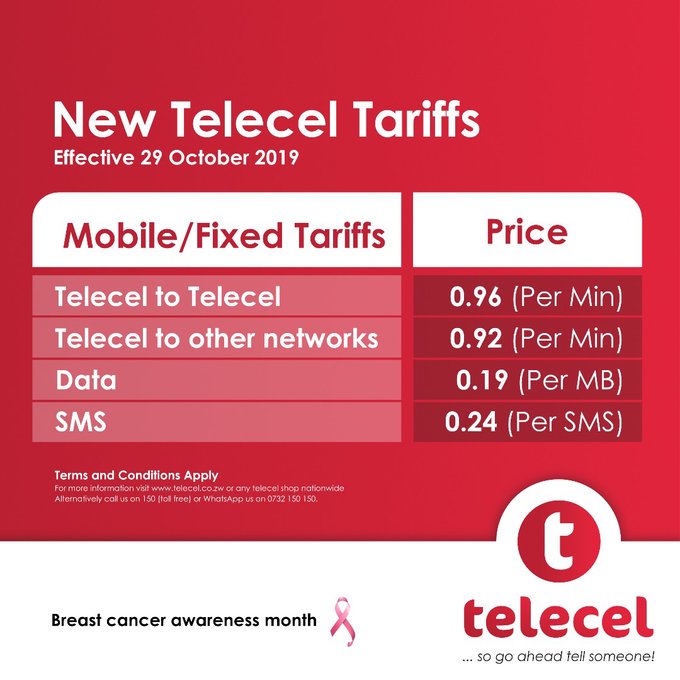 Well, Telecel have just announced their own tariff hike and its full of surprises. If it's not an error on their part, Telecel to Telecel calls are the most expensive as they will be charged an eye-watering $0.96 per minute. Meanwhile, calls to other networks will be billed at $0.92 per minute. We have a feeling this is a typo.
Otherwise, the tariff structure doesn't even make sense. Not only is Telecel now more expensive than Econet when it comes to making voice calls. The operator will be punishing you for calling a number on their own network essentially driving people away. That would be highly irregular and pretty stupid to say the least.
It's worth repeating that Telecel voice calls are now more expensive compared to Econet. Traditionally Telecel has been known as the cheapest network. They have to charge lower prices given the quality of their service which to be blunt is not always on par with the other two networks.
You will have a very hard time finding a 4G Telecel base station even in the midsts of Harare. Leaving the CBD usually means leaving the Telecel network. To charge more than Econet might turn out to be very suicidal as the Mobile Network Operator continues to shed subscribers each quarter.
Update
Telecel has maintained the strange pricing structure, however, they have reduced their on-net tariffs by 1 cent. These calls are now billed at $0.95 per minute. This matches fellow government-owned, NetOne's tariffs.