This morning we woke up to the news that NetOne would be reviewing its bundle prices tomorrow. It seems they are not the only ones. Econet has also now announced that they will be reviewing their own data, voice and SMS bundles on the 21 first i.e. this coming Thursday. Again the word review is a euphemism for a proposed hike. Prices are rarely ever reviewed downwards in this country.
Dear Customers.

Please note, we will review our Voice, Data and SMS bundle prices effective, Thursday 21 October 2021.

To access Voice and Data bundles dial *143#

To access SMS bundles dial *140#

Econet

Econet's full statement on the issue.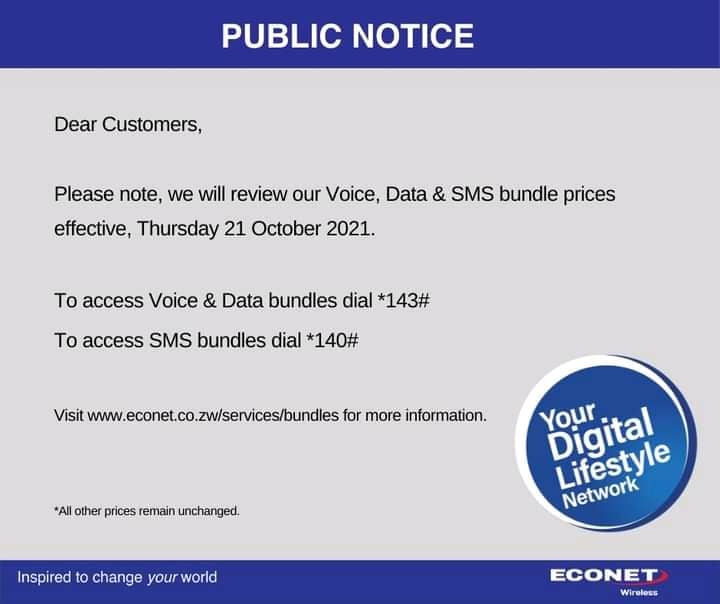 The black market factor
It was only a matter of time before this happened and we are going to see a full round of price hikes before they eventually settle at the new rate level. While businesses might not come out and say, they use black market rates in their costing decisions. When the rate goes up like it has you can expect prices to follow.
Usually, businesses try to pretend the hike is caused by other factors. They are not wrong, it's not just about the black market rate. Fuel which is an important input to just about every business went up at the beginning of the month. That would have played a role in Econet and NetOne's decisions as well.
Again, expect a full round of price increases for most products and services. Even ZESA is reportedly considering another hike. It's only a matter of time before they get approval to do so.