Yesterday the Zimbabwe Republic Police, through state broadcaster ZTV made a bizarre claim that the police force had recovered 5 000 tonnes of mealie-meal at Blue Ribbon Foods's Harare and Bulawayo depots.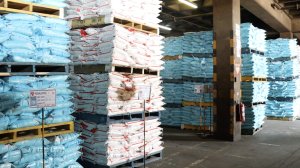 They claim that this mealie-meal was destined for the black market. However, in their defence Blue Ribbon claimed that the mealie-meal had not yet been distributed because they were awaiting payment from the government who had not yet given them the subsidy money.
Checks conducted at Blue Ribbon Foods in Harare and Bulawayo showed that 300 tonnes of mealie meal was yet to be distributed to the market due to some reasons which are yet to be verified.

At National Foods facilities ion Harare and Bulawayo the situation was different, the company had 1 800 tonnes of mealie meal at ASpindale Depot, 600 tonnes at Bak Storage, 500 tonnes of mealie meal at their head office, 500-tonnes in Bulawayo, 1 000 tonnes in Mutare, 500 tonnes in Masvingo all which was ready for distribution to the market, however, the company indicated that they were waiting for payment form government under the subsidy programme.

ZRP National Spokesperson Assistant Commissioner, Paul Nyathi
GMAZ also pointed out that some of their members have had to keep mealie-meal because the businesses that are supposed to collect and sell it have no fuel as the country runs dry.
The statement by the police seems rushed although no doubt someone has been supplying the black market with subsdised mealie-meal the case against Blue Ribbon does not even appear to have been proven yet. The police found mealie-meal in the company's facilities which is hardly the smoking gun.
This is much ado about nothing probably. Experience has shown that after this screaming headline you will likely never hear of this matter again or the police will walk it back eventually.