Conti-Cash a remittances company that also acts as a registered Bureau de Change is now offering a DStv payment service. The service is different from the one offered by banks and the hosts of other agents out there in one big important way: You can pay for your DSTV subscription at the bank rate. This means that you can pay for your DStv subscription at the official exchange rate of $85!
As you can appreciate this is pretty big news. Normally if you go to pay for DStv at your local bank they will demand foreign currency and an additional processing fee. Most people use agents that are a dime and dozen in Harare and offer their services via WhatsApp. These agents normally use the black market rate if you want to pay using RTGS. With ContiPay you will only pay the following in RTGS:
| DStv Package | USD Price | RTGS Price |
| --- | --- | --- |
| Lite | $8.00 | $682 |
| Access | $13.00 | $1 109 |
| Family | $19.00 | $1 622 |
| Compact | $29.00 | $2 475 |
| Compact Plus | $45.00 | $3 841 |
| Premium | $75.00 | $6 402 |
Naturally ContiCash will add their own processing fees on top of this. There is another catch. You are only allowed to pay for one DStv account through the service.
How to pay DStv with ContiCash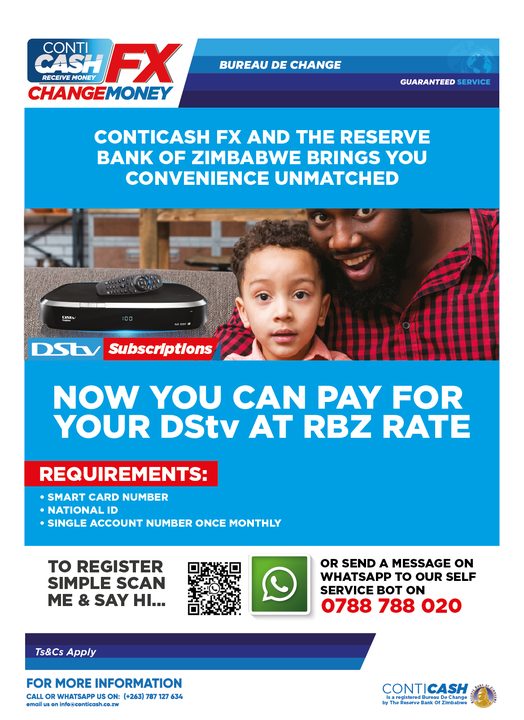 The service is available via WhatsApp. You can add Conti-Cash's WhatsApp bot to your contacts by scanning their QR code or saving the number 0778 788 020. You can then simply send a message that says Hi, to this number. The bot will ask for your:
Name
Smart Card Number
National ID Number
Again you can only pay for one account per month.
A step in the right direction
One area and reason the RBZ auction has failed miserably is when it comes to allowing ordinary people to access foreign currency when they need it. Thus far, access has been restricted to SMEs and big companies only. Based on remarks made by the RBZ governor some years ago one main area of foreign currency demand by individuals in Zimbabwe is pay satellite TV. DStv demands foreign currency and people are sick of ZTV so there is a huge demand for USD to pay DStv. In 2017 the RBZ estimated that Zimbabweans spend about US$45 each 6 months on DSTV subscriptions.
When people are denied access to this foreign currency they simply go to the black market and pay whatever rate the dealers there are demanding. The RBZ may just be trying to tame the runaway rate on the black market here by allowing ordinary people controlled access to foreign currency at the official rate.