The Zimbabwean government through July Moyo who heads the Ministry of Local Government and Public Works is still working mightily to try and force through the Pomona Waste deal fronted by Delish Nguwaya of Drax fame. The Minister wrote a letter dated 27 August instructing Harare City Council to undo its cancellation of the deal because the Minister claimed it was not in Harare Resident's interests to get the deal cancelled.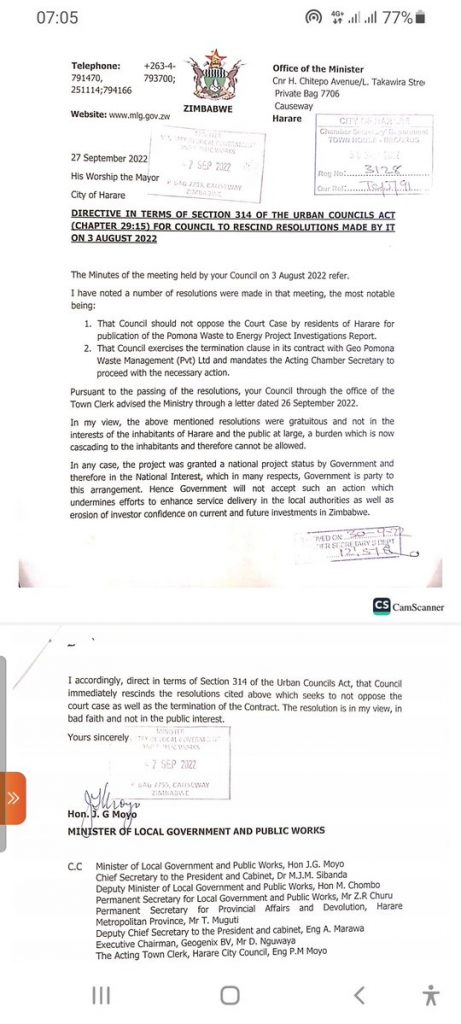 What is the Pomona deal?
The Pomona deal was passed during the days of political chaos when Senator Douglas Mwonzora was crowned the leader of the MDC-Alliance by a Supreme Court ruling and proceeded to issue dozens of recalls. Amidst the chaos the deal seemed to slip under the radar. Under the controversial deal:
Harare City Council handed its Pomona dumping grounds to a company called Geogenix BV which is no more than a briefcase company in return for no tangible benefits.
The city council would have to pay this briefcase company fronted by one Delish Nguvaya who was also fingered in the Drax scandal for a similar dubious deal, US$40 per tonne of garbage with a minimum of 550 per tonne to be delivered per day. Failure of this would see Harare City Council paying US$3.5 million in damages.
Apart from essentially bankrupting Harare City Council and putting money into the hands of Geogenix there is no real benefit to be derived from the Pomona deal. State media claims the deal is meant to improve service delivery in Harare but it is simply false. The deal stinks to high heaven and was designed to siphon money out of the city council while providing no real tangible benefits. It is no different from the US$9 000 per laptop deal hat was recently cancelled. It shows how higher-ups in government have made it their mission to pillage and loot government funds while pretending to do something useful.