Zimbabwe's largest producer of sugar, Tongaat Huletts, yesterday increased the price of its product by 100%. The prices are already effective. Sugar is already absent from most normal supermarkets although yesterday Pick N Pay and OK were selling it for just over $10 ZWL.
As has become the norm a shortage is promptly followed by a hike in price. Effective from yesterday 1kg will now be sold $8.61 and 2kg at $17.22. This is double the official price Huletts were asking for before the hike.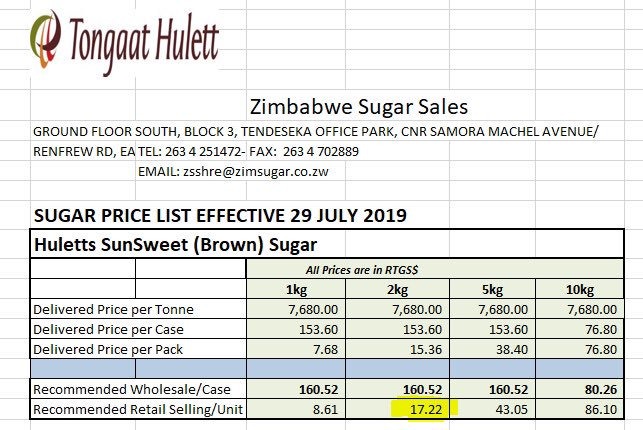 In comparison to other products, Tongaat Huletts has not hiked the price of its product in a while. Back in June, there was a shortage which was taken advantage of by the black market. Tongaat came out to say that despite what the market was charging, the official price of sugar had not changed.
The message circulating on social media does not give a reason why Tongaat is doubling the price of sugar. With the economy in tatters it could really be anything or everything:
Power shortages although they have their own internal source of power it might not be enough
Increased wages expenses due to the rising cost of living
Foreign currency shortages
---
Quick NetOne, Telecel, Africom, And Econet Airtime Recharge
If anything goes wrong, click here to enter your query.