Zimbabweans love their social media and the government knows this. This is why they have in recent years created accounts on various social media platforms including Twitter where various government departments have an official presence. One such account belongs to the Parliament of Zimbabwe. This is a verified account that posts regular updates on developments and happenings in Zimbabwe's parliament and has a healthy following of about 26 000 followers. Unfortunately, this account was recently hacked and hijacked by crypto-scammers who went on a scamming campaign using the account.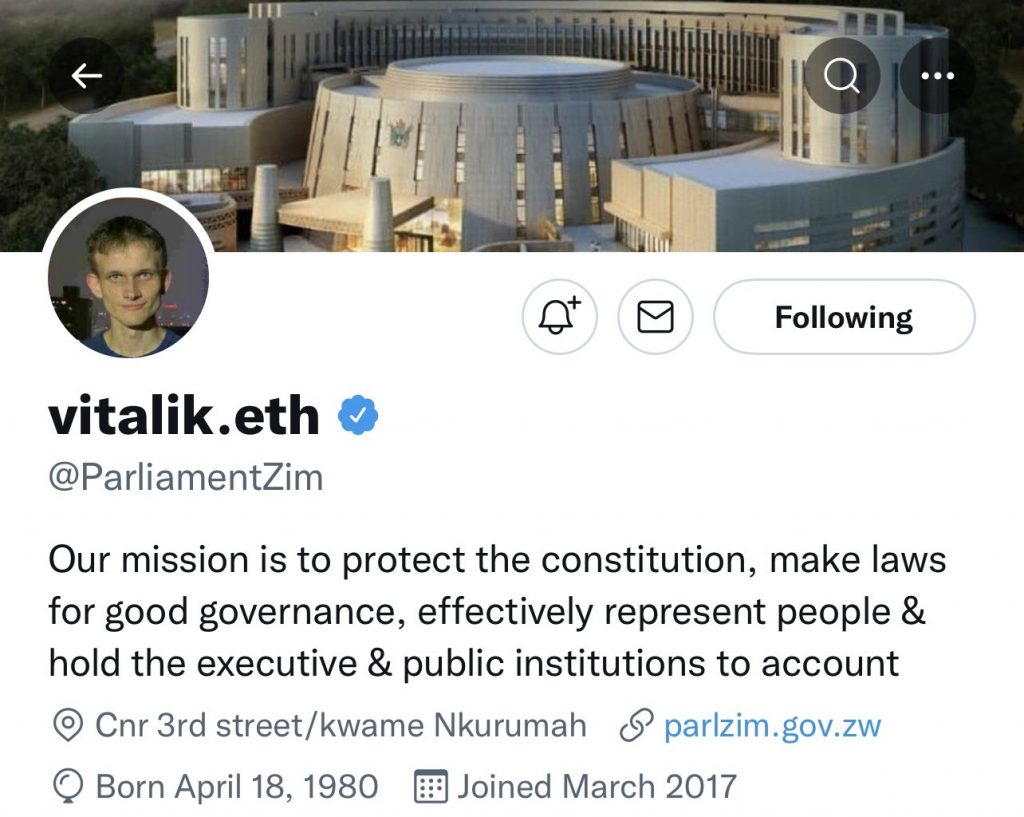 So what happened?
No one from the Parliament's social media department has commented on the issue and the Parliament seems to have regained control of the account eventually although there is no evidence to suggest they ever lost control apart from the rogue defacement shown above. We can however surmise what happened based on other similar hacks elsewhere.
Crypto-scammers often target verified social media accounts as they desperately seek relevance and legitimacy in their bids to convince and lure people into giving them money. They often use the account's high standing to convince people to send money as cryptocurrency so they can "invest" the money on their behalf. The Parliament of Zimbabwe is just the latest victim here. Even prominent celebrities like Jeff Bezos have been hacked in the past resulting in some people being scammed of their crypto-currency.

More often than not these are not even what we call targeted attacks. The attacker most likely did not target the Parliament of Zimbabwe account specifically. It is more likely that an automated script or software robot acting on their behalf carried out a random attack that just happened to catch the Parliament of Zimbabwe in its nets. These hackers make scripts that go around the internet launching mass automated attacks and probes. Sometimes they gain access and sometimes they are thwarted. They rely on the sheer number of the scale of victims to perpetuate their campaigns. For example, they might send random links to the DM of the account hoping that those who read the message will follow the random but specially crafted link. This link usually allows the attacker to gain access to the account directly or through what is known as an API.
Parliament of Zimbabwe regains control
Anyway, it seems the Parliament of Zimbabwe account has been recovered with its reputation relatively intact. Hopefully whoever allowed the attack to happen has been schooled in basic cybersecurity and will do better next time. For now, the account is back to Tweeting mundane stuff like boring speeches from Ambassadors.