A couple of Schweppes products including the popular dilutable drink, Mazoe Orange crush, are now being sold exclusively in foreign currency in a number of big supermarkets. Unlike downtown and Mbare tuckshops, many big supermarkets still accept ZWL/RTGS for a lot of items even though they seem to be now using an eye-popping rate of 1 USD as to 1 000 ZWL. This makes their decision not to accept local currency for a drink that normally costs around US$3 per 2-litre bottle all the most notable and strange.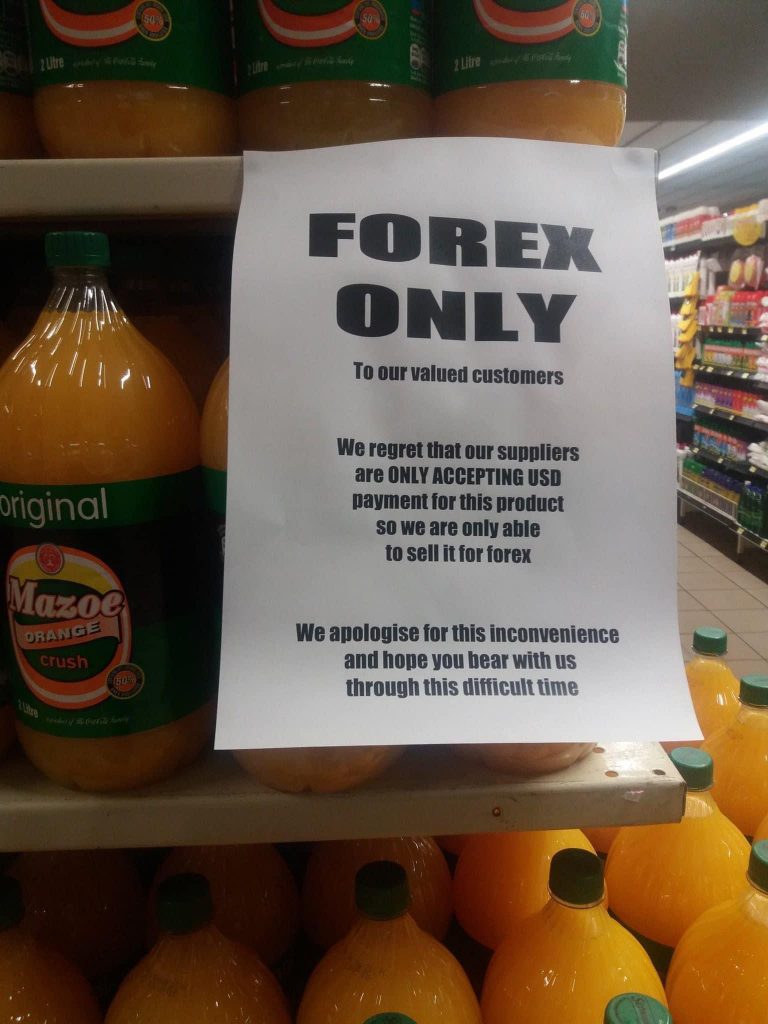 A growing list of forex-only products
We have noticed that there is a growing list of products that seem to be only available in foreign currency in local shops. There is Steri Milk. Then there is of course fuel. Despite the government's continued habit of announcing both USD and ZWL prices for petrol, diesel and LP Gas most service stations only accept USD. They of course have a special dispensation that allows them to do so. The government was forced to give service stations permission to do this in order to bring fuel shortages to an end as fuel is imported in foreign currency. Even though we have heard of ZWL service stations being set up by the government these have been abject failures. Only the elite and lucky have ever been able to buy fuel in ZWL in the past couple of years. Thanks to corruption those who are lucky continue to be lucky when it comes to being able to buy ZWL fuel.
It's not just fuel and LP Gas though. We have also noticed a couple of pharmacies are now refusing ZWL for chronic medications such as Nifedipine, HCT, Enalapril and Apidra. Pharmacies are demanding USD for these and a lot of medications. The justification used is that either the medications themselves or their key ingredients are imported exclusively in USD and the government has not been allocating foreign currency to pharmacies anymore. We have seen a plunge in weekly foreign currency allocations to all sectors since May.
Everything would be all fine and dandy if everyone earned in USD. The largest employed group of people in this country continue to earn at least part of their salaries in ZWL. The government continues to impose their Willing Buyer Willing Seller rate on all businesses but thanks to the distortion such a move brings it seems the industry is now slowly but openly rebelling.