Authorities have confirmed that the isolated woman who was admitted at Wilkins Hospital yesterday has tested negative for the coronavirus (aka Covid-19). The woman had recently come from Wuhan province in China which is currently ground zero for the virus which Chinese authorities have been battling to contain since the close of 2019.
Good evening Residents: We would like to confirm that we have a suspected Corona Virus patient at Wilkins Hospital.

She was received by our ambulance crew led by Dr Soman Mudariki yesterday afternoon at the Robert Gabriel Mugabe International Airport.

The 27-year woman arrived aboard an Ethiopian Airlines. She had been to Wuhan but when she travelled she was coming from Guangzhong.

Health Services Director Dr Propsper Chonzi has confirmed that tests proved she was negative. Her parents visited her today.

She is expected to be discharged at any time from this evening. Dr Chonzi said the council was prepared to deal with all suspected cases

Statement issued by City of Harare on the issue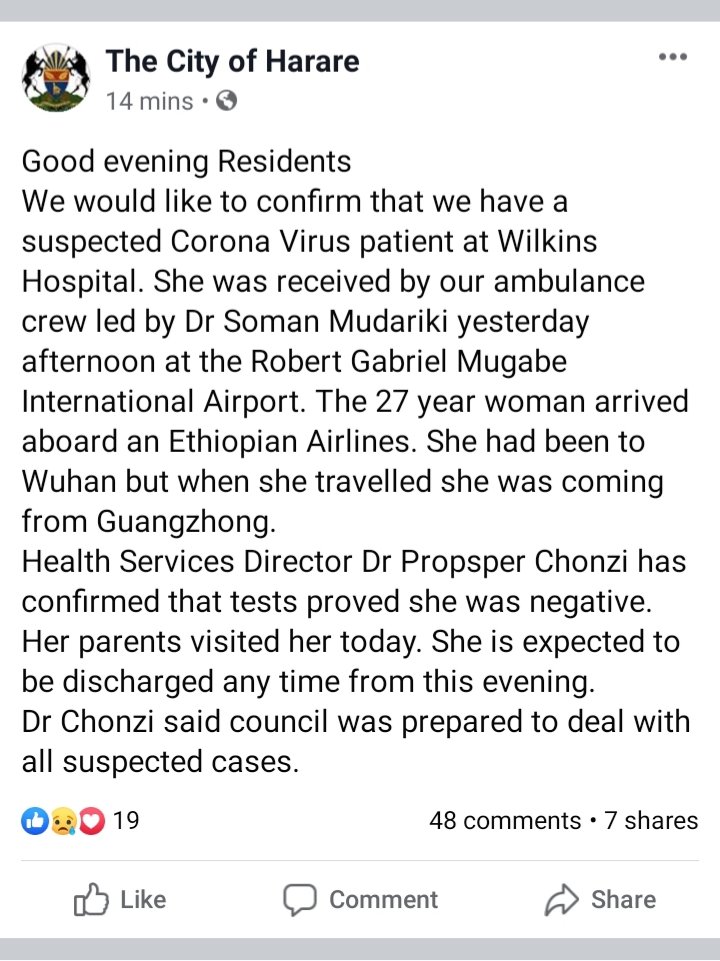 Shortcomings exposed
A few shortcomings were exposed when it comes to the country's strategy to dealing with pandemics that threaten the country such as Covid-19 and the ever present spectre of the Ebola virus.
It took authorities a while to get into action and inform the public. The rumour mill was already panicking as rumours of the quarantined woman spread like wildfire. The Chinese have learnt that communication is key and their state media has been seized with the matter.
It is also important that the previous schism between the council and national authorities be patched up when it comes to this crisis. Yesterday, thankfully there seemed to be unity, unlike with the cholera outbreak from last year were cracks were visible. People don't are not looking to be told who to blame, they just want to be protected.
Chinese help is critical
Despite thousands of deaths, China has proved to be well equipped when it comes to dealing with Covid-19 within its own territory. For better or for worse, China has also promised to help Zimbabwe and yesterday they seemed to be keeping their word. We will need their knowledge and skill if the worst does happen.
Knowledge such as the fact that drugs such as chloroquine can help somewhat might make all the difference in the world.