It's true that Ecocash is no longer as popular as it used to be but they are making a comeback. A lot of people have been asking us if there is a way to pay DSTV using Ecocash. The answer is yes, you can pay DSTV using Ecocash without having to go through hoops or paying a steep sum in agency fees. Below we will outline the steps you will need to follow.
If you have read a lot of our articles you know how much we like to bash DSTV. You will be left with the impression that DSTV is a dying dinosaur that is on the brink of extinction. It's true, streaming services like Netflix have become a thorn in DSTV's side but they are no more than that. According to our learned friends at Techzim, DSTV had an astounding 21.8 million active subscribers in 2022.
How to pay DSTV using Ecocash
To pay DSTV using Ecocash you need the following:
An Ecocash USD/FCA wallet. You cannot pay DSTV using your Ecocash ZWL wallet unless you go through an agent.
The surname and SmartCard number of the account you want to pay for
1. Generate a VCN
A long time ago Ecocash partnered with MasterCard an international payments provider behind the MasterCard brand. Under this partnership Ecocash account holders like you can get a MasterCard they can use to make international payments. You can use MasterCard to pay DSTV online. Ecocash offers what are known as Virtual Card Number (VCN) service. A VCN is not a physical, plastic card. Instead, it is a set of sixteen digits similar to the number you see on the front of a physical MasterCard card. When you generate a VCN using Ecocash you get three important numbers:
.A 16-digit card number as already said this is similar to the debit card number on physical MasterCard cards and works the same way
You will also get an expiration date such as 11/24 where 11 is the month (November in this case) and 24. Ecocash's VCN valid for a year after which it expires
You also get a CVV code which is a 3 digit code such as 123
To generate an Ecocash VCN:
Make sure there is at least US$0.50 in your Ecocash USD wallet
Dial *153# on your phone
Enter your Ecocash pin
Choose-7 Wallet Services
Choose-6 Ecocash Debit Card
Select- 2 Ecocash-MasterCard Virtual
Select-1 Request VCN
Enter a four-letter nickname for your card e.g. dstv
1 to confirm submit your request
Once you submit your request about US$0.50 will be debited from your Ecocash USD wallet and you will receive a message with the VCN details i.e. Card number, expiry date and CVV. Keep these details safe. Do not share them with anyone for any reason. Ecocash would never ask you for these details. These details are linked to your Ecocash wallet. Anyone with these details can drain your wallet.
2. Pay DSTV using your Ecocash VCN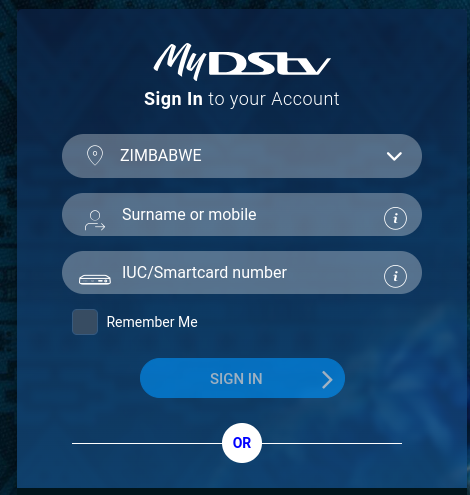 As already mentioned you can pay DSTV using MasterCard. The Ecocash MasterCard VCN is a MasterCard. To pay DSTV you need the surname and SmartCard number of the account you want to pay.
Visit the DSTV Self-Service page
Make sure the country is set to Zimbabwe. You cannot pay for a South African account using Ecocash's VCN
Enter the account surname
Enter the DSTV Smart card number
Once you are logged in you can complete the payment
When prompted for your card number enter the VCN details from above
Click Pay. Your Ecocash USD wallet will be debited
Troubleshooting
This will only work if you have the right amount of money in your Ecocash USD wallet. Ecocash will also charge a small service fee so you need more than the amount you want to pay in your wallet. Make sure to enter the details you receive from Ecocash correctly. Also, you cannot pay DSTV South African accounts using Ecocash VCN. It will only allow you to pay for a Zimbabwean DSTV account.