Zimbabwe's largest internet service provider, ZOL has sent out a notice to customers saying that their call centre working hours have now been reduced from 24 hours to 12 hours during "waking hours". The company has said this is due to the spike in Covid-19 cases as it seeks to protect the health and safety of its workers.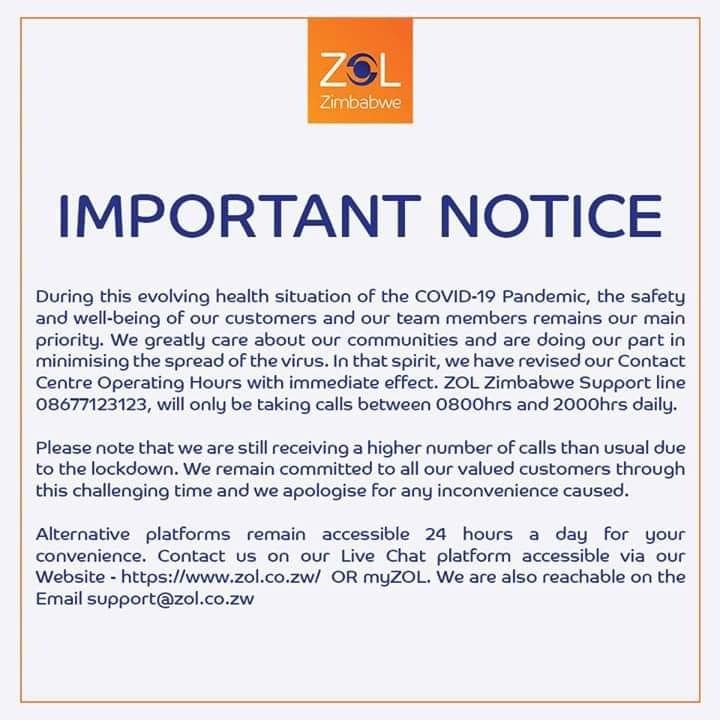 The company has said that all the other support platforms remain accessible 24 hours a day. This means that if one has issues they can always get in touch with the company via email or their chat services under myZOL. The company also has a presence on Twitter and Facebook where customers can message representatives and get responses. It's easy to see what's going on here. For agents to man the call centre they probably need to leave home and go to the call centre whilst they can easily man the other platforms from the comfort of their homes.
Not many people are likely to be affected by this change. ZOL's call centre has been swamped to the point of being useless ever since the Covid-19 pandemic lockdown began. A lot of people are now working from home and need internet which has led to slow speeds. This has led to a lot of complaints although service has improved somewhat following the granting of free spectrum by POTRAZ. Still these and other issues have resulted in a higher than normal amount of complaints and need for support.