Zimbabwe's exports totalled US$549.7 million in the month of July 2022 compared to US$541 million back in June. This is an increase of 1.62% which is good news for the country which as it means more foreign currency flowing into the country. There was some mixed news on the imports front. While Zimbabwe is still importing more than it exports with imports standing at US$729.6 million this was a fall from a total of US$753.1 million back in June.
These latest statistics were revealed by ZIMSTAT the government agency tasked with producing vital statistics for the nation. Exports were driven mainly by semi-manufactured goods (US$35.6 million) as well as minerals like Nickel (US$30.8 million), Ferrochromium and Platinum. Strangely gold did not appear as a separate item on the major exports list and was probably lumped under the other minerals category. Tobacco, one of the country's biggest foreign currency earners contributed US$7.1 million to the total export proceeds.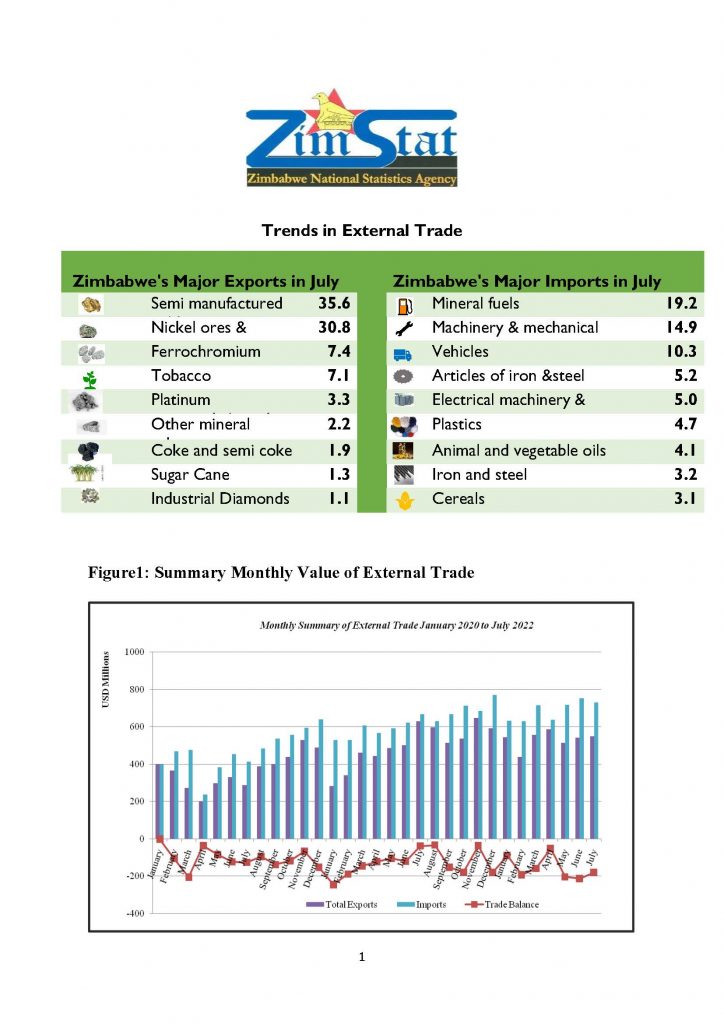 Zimbabwe's major imports were as follows:
Fuel was the biggest cost item on the list and gobbled US$19.2 million
Machinery and mechanical items consumed US$14.9 million
Vehicles imported into the country were a mere US$10.3 million
Other major import items included plastics and animal and vegetable oils as well as cereals.
Persistent trade deficits
While we saw a reduction in trade deficit in July a quick glance at the country's import and export graphs shows that we need not pay any special attention to this reduction. The trend over the past year shows that we have had persistent deficits that are all over the place and do not show any sign of declining. That has to change if the country wants to wean itself off its unhealthy foreign currency habit and the rate is to come down. We rely too much on imports even for basic items.
One area that might change if we do indeed start producing oil is the energy import bill which is the by far the largest import cost we have. Oil production would cut this down and possibly boost exports as well. Countries like Nigeria and Angola have reliably relied on oil. Diamonds have been a major disappointment to Zimbabwe. They were looted en masse and exported illicitly and raw with little funds flowing into the state's coffers. As the result they contribute a negligible amount to exports.