ZESA has just issued yet another unwelcome announcement. Zimbabweans can expect more load shedding due to, wait for it, depressing power generation. That is hardly surprising to be honest but it doesn't make it any less disappointing to hear the announcement especially at a time when the government has stopped mandatory blending and most fuel companies are selling their fuel at prices close to those set by ZERA. So running generators will be expensive and not a cheap option. This time around the blackouts are being blamed on the resumption of repair works at Kariba. Then again there is always a reason and when all reasons fail the government has always wheeled out the mother of all excuses in their arsenal -sanctions. Below is a notice from ZESA on the issue.
RESUMPTION OF KARIBA SOUTH HYDROPOWER STATION DAM WALL REHABILITATION WORKS

ZESA Holdings would like to advise its valued stakeholders countrywide on the resumption of rehabilitation works for the Kariba Dam Rehabilitation Project. The works had been temporarily shelved effective the 16th of December 2021, resulting in minimal load shedding during the festive season.

Following the Zambezi River Authority's request to reduce generation levels at the Kariba North and Kariba South power stations, some units at the Kariba South Power station will be taken out of service daily to allow for the completion of critical works on the dam wall, resulting in reduced generation levels and load curtailment. The expected completion date of the rehabilitation project is 25 January 2022, and stakeholders will be notified on the progress in due course.

Consumers are urged to use available power sparingly to minimize the effects of curtailment.
Stakeholder Relations (11/01/2022)
For more information contact us:
Twitter : @OfficialZESA Facebook :@OfficialZESA WhatsApp : +263719219977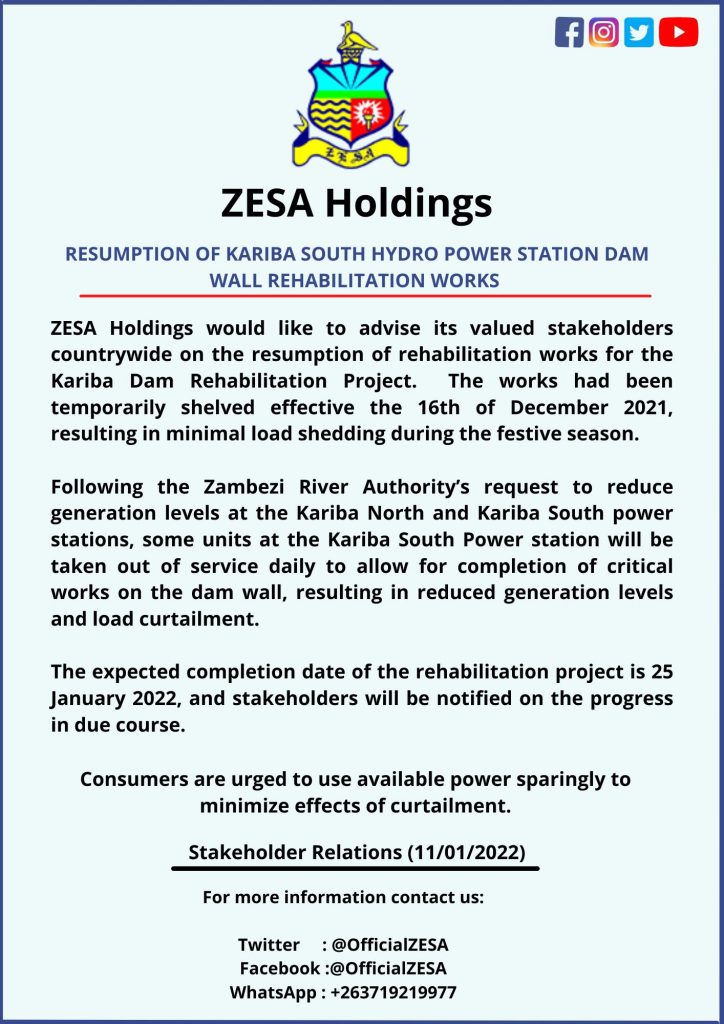 An age old problem
This is a problem that has been around for 20 years everyone knows the issue by heart. We produce less power than we need. We have been doing this for close to 20 years. The government has had numerous opportunities to solve this issue but thanks to corruption and incompetence we are still stuck in that loop. It's very unlikely we will see a solution anytime soon and our best hope is power imports. Unfortunately, all Southern African countries are facing power deficits. They may not be as bad as ours but they are still horrible enough to make them not want to export.