A few weeks back the RBZ announced that the Monetary Policy Committee the group of boffins that are in charge of crafting policy at the central bank had made a rather strange recommendation. Individuals, ordinary men like me and you were now allowed to buy up to US$50 from the official Bureau de Changes at the official rate.
Naturally, I scoffed at such talk. We have heard this many times before and it has failed to materialise. The only thing close to something like this was when ContiCash announced that they would allow Zimbabweans to pay for their DStv at the official rate weeks earlier. The service now covers things like medical bills now.
You can now buy USD cash from ContiCash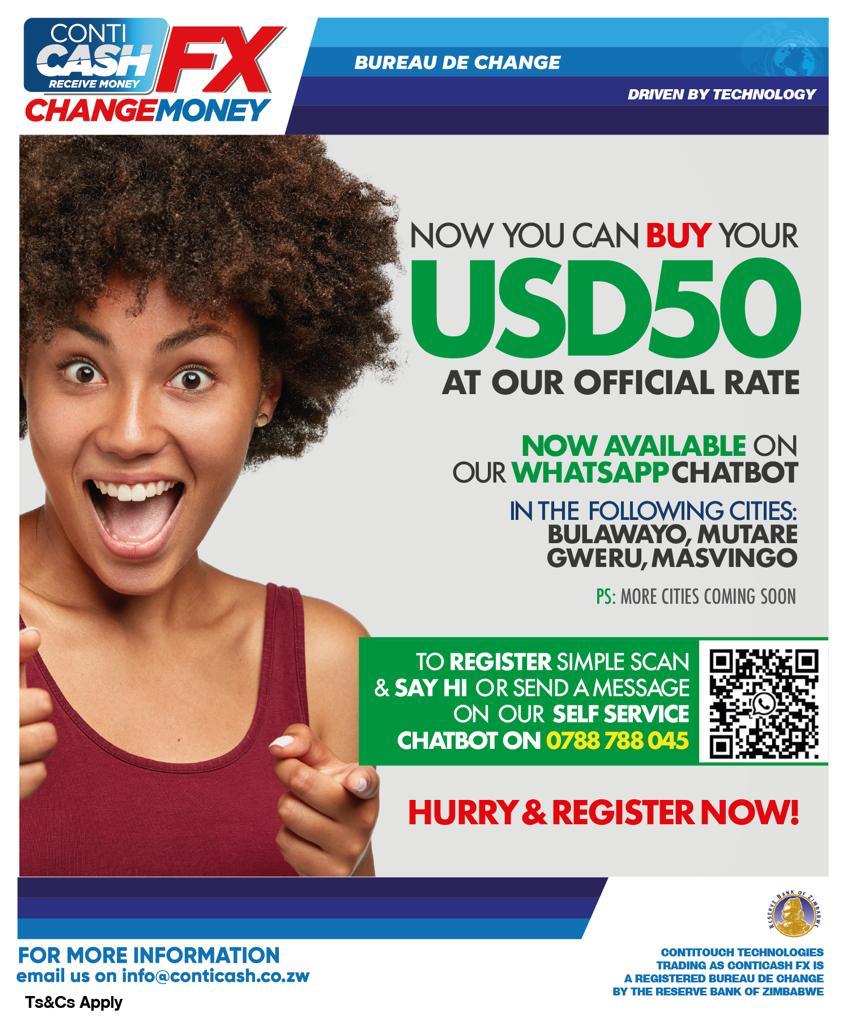 Turns out this is real. ContiCash reached out to inform us that they are now allowing people to buy up to US$50 cash at the official rate. The process involves very little human interaction and is partly automated. The only time you need to interact with a human is when you go to collect your cash.
The service is already live in the following cities:
Harare-that's kind of a given
Bulawayo
Gweru
Masvingo
How the process works?
These are the steps you need to follow if you want to buy the money from ContiCash:
First you need an account with them. If you don't already have an account you need to save the number of their WhatsApp chatbot which is 0788788045
Once you have saved the number send a message that says Hi to the bot
You can then sign up for an account
This will involve you answering a series of questions
At the very end of the process you will be asked to take a photo of a valid ID it could be a passport, national ID or a driver's licence
Once you account havs been created you can then go ahead and send the Hi message again
This time select the $50 dollar product
You will be asked to select your desired collection center
You will then be asked to pay a given amount
You can pay this using ContiPay (ContiCash's payments provider). Payments can be done via ZIPIT or Ecocash
Once payment is confirmed you will be given a unique PIN and secret code which you need to use for collection
You can then go to a ContiCash booth in your desired city and collect the cash. You can collect at any ContiCash branch.
N.B If your try to apply again after you have already received your allocation the ContiCash system will reject your application
It's great that there is minimum human interaction involved here. Cases might be slightly down from their third wave peak but COVID-19 is still a real threat that needs to be taken seriously.
According to ContiCash, the service has already been popular with a lot of people from as far away from towns and remote areas such as Shurugwi, Maphisa and Chiweshe taking up the offer.
Is this sustainable?
Honestly, who cares? This is Zimbabwe I take my wins whenever I find them. With a lot of things being sold on the informal market exclusively in USD, this system will be useful for those who earn lots of RTGS and need to exchange their money to pay rentals and buy basics. You just ride and surf the wave and let it take you as far as it goes.
So this is an opportunity you don't want to miss whatever you think about the whole thing. I mean currently, there is a large gulf between the official and unofficial rates you don't want to miss this opportunity. $50 is a lot of money and for most households, it will be enough to pay for things like medication that requires USD or some other petty USD needs you have.
So go for it. I know I am.