A crafty Bureau De Change has found a way to pay high rates to prospective customers in spite of crippling Reserve Bank of Zimbabwe regulations. Cash24 is offering a bonus of $524 ZWL in Halsted Shop vouchers for every $100 USD you trade with them.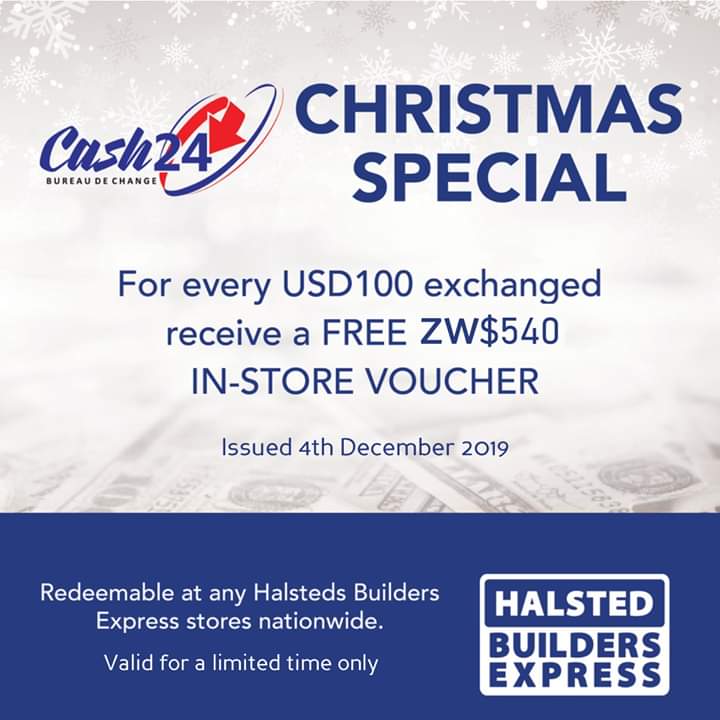 A cunning way to pay Black Market rates officially
During the last Monetary Policy presentation, the Reserve Bank governor tightened the screws on money exchanges because he blamed them for the spiralling black market rates and the fast depreciating Zimbabweand dollar.
Instead of setting their own rates Bureau De Changes are now required to pay rates within 2.5% of the interbank rate. This has hamstrung exchanges which are now struggling to find customers as most people opt to trade on the black market which offers much higher rates.
Cash24 has found a cunning way to pay much higher rates that might allow them to get more customers. Currently, the Interbank rate is around $16.33 ZWL per 1 USD. That is $1 633 ZWL per $100 USD. Add $540 to this and you get $2 170 which would allow Cash24 to compete with black market buyers.
The problem is that customers would not be able to use this credit in other stores. Halsted is a store for those who are interested in building materials. Now there is only so much building material one can buy. To be fair though one can always sell the goods.