Just as we suspected after reading it, the statement attributed to the Grain Millers Association of Zimbabwe doing rounds on social media is fake. It seems the statement never emanated from the association which distanced itself from the contents of the letter.
GMAZ

ADVISORY NOTE
To: Mr. T. Msarara, National Chairman
From: GMAZ Secretariat
Date: 23 November 2019
Ref: ADV004 SUBJECT: COMPUTATION ON PRODUCTION OF ROLLER MEAL

The Government of Zimbabwe has with immediate effect removed subsidies on grain, resulting to the price of GMB maize to ZWL 4,000.00/MT.

ROLLER MEAL

In light of the above price movement, the price of roller meal shall be circa RTGS 89.96 per 10 kg bag.

The traditional margin for miller poses to retailers is 13%, thus giving a retail pose of circa RTGS 101.66 per 10 kg bag

Please find attached. comprehensive costing schedules.

Please note that each Miller is free to charge according to their cost structures.

Yours Sincerely,

GMAZ- Secretariat

The fake letter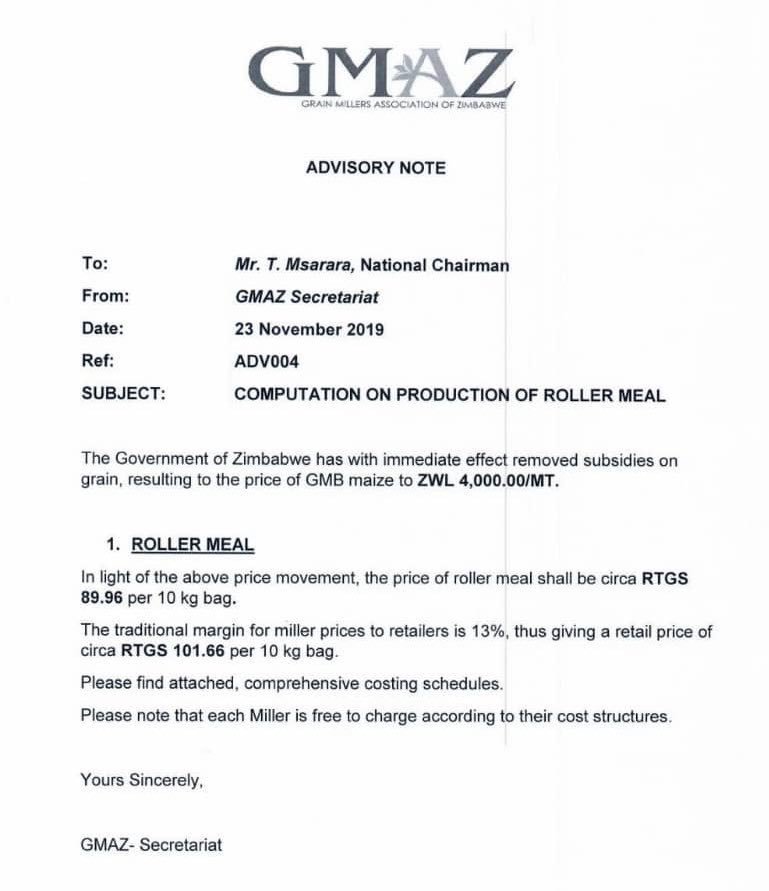 We had our suspicions when we saw this communication. It does sound like it was something written by a person with an agenda probably a retailer given the display of knowledge on the industry.
However, the reference calling it an ADV004 seems like a weak attempt to make this look official as it's not customary of GMAZ. Nor is the fact that this person seems to focus only on 10kgs and not other weights. Add to that the fact that the scrapping of subsidies is still an ongoing process and you have something that is fake but does the intended damage.
Despite this being, fake retailers have taken heed and are already selling maize-meal at prices even above this. Clearly this was inspired by the ZERA letters as well as RBZ communications as it mimics their style.