With most Fintechs such as PayPal, Skrill and Netteller Shunning Zimbabwe, people have been left with no choice but to get into crypto-currency. It's relatively easy to buy Bitcoin in Zimbabwe using Ecocash or USD cash. There are plenty of WhatsApp and Telegram groups centred around this in Zimbabwe.
These groups also have people who do foreign currency trading. Forex traders use platforms such as Binary.com and Deriv.com where they deposit funds using cryptocurrency. Sometimes trade using their own funds but some also do trading on behalf of others. They then share whatever profit they make with the people who invested. Usually, the returns are quite modest but it's a tipsy turvy world that can see you making thousands in profit in one day or losing your entire savings.
Again this is all very legit and a number of people I know actually make a living by trading foreign currency and crypto-currency. But cryptocurrency is decentralised. There is no Ecocash to call for help when something goes awry. This means transactions are impossible to reverse. Once you send money the only way you can get back is if the person you send it to sends it back.
This tends to attract scammers. They love tricking you to send money to them using hard to trace ways like this. In the yester-years Nigerian scammers would ask people to use services such as Western Union and MoneyGram. Not many people are using these services anymore plus there is a COVID pandemic out there and these services usually require people to go out. The scammers would lose potential income.
Then there is the fact that most ordinary people do not understand how cryptocurrencies work and you have to perfect field. Then there is the sudden surge in Bitcoin prices due to Tesla's interest in it and scammers just cannot resist. Over the past few weeks I have been personally targetted through Facebook and WhatsApp.
Usually the people who do this engage in a bit of social engineering. They want to convince you that they are real people. Usually the account used has the photos of a beautiful woman whose photos were stolen from their own Facebook account. The account is then cultivated with fake posts and comments to make it appear legit. The scammers may even age the account. This is a process where they don't use the account for scamming purposes immediately after creating it.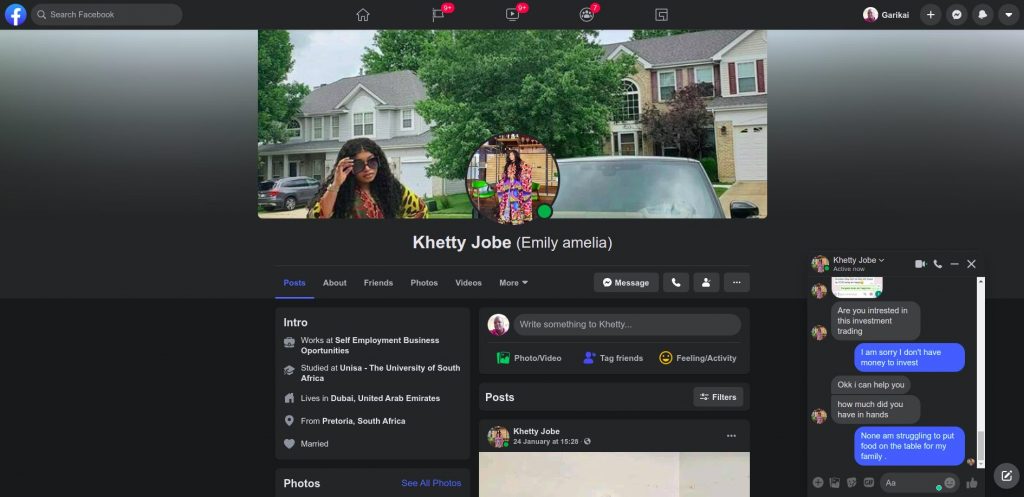 These people are now also targeting Zimbabweans specifically. People are desperate to make a living as informal businesses are mostly not being allowed to operate and some people have already been scammed. Once you send these so-called investors money you will never get it back and there is no way to get it back.
How to protect yourself
Your chances of being scammed fall dramatically if you practice these steps:
The easiest step is to never accept investment proposals made to you by strangers via WhatsApp or Facebook
Do not invest your money with a person you don't trust and trust has to be earned, a few pictures on Facebook just don't cut it.
If possible always meet in person with the person you are investing your money with
Get their real identity and place of residence
They should sign an affidavit in the presence of witnesses that they have taken money from you and promised specified profits
Ask for referrences first before you invest even with a trusted person. There are what are known as demo accounts these are not real accounts. Ask for real data.