The government in an obstinate move has said that the price of roller meal will remain fixed at the current $70 ZWL. This is according to a press statement signed by the Minister of Industry and Commerce on the 8th of June. Instead, the government is simply going to up its subsidy to millers from about $73 ZWL per kg to $216 ZWL. Millers will then deliver the roller meal and sell it to retailers at $63 ZWL while retailers are supposed to make a profit of $7 ZWL (that's 9 cents a bag)!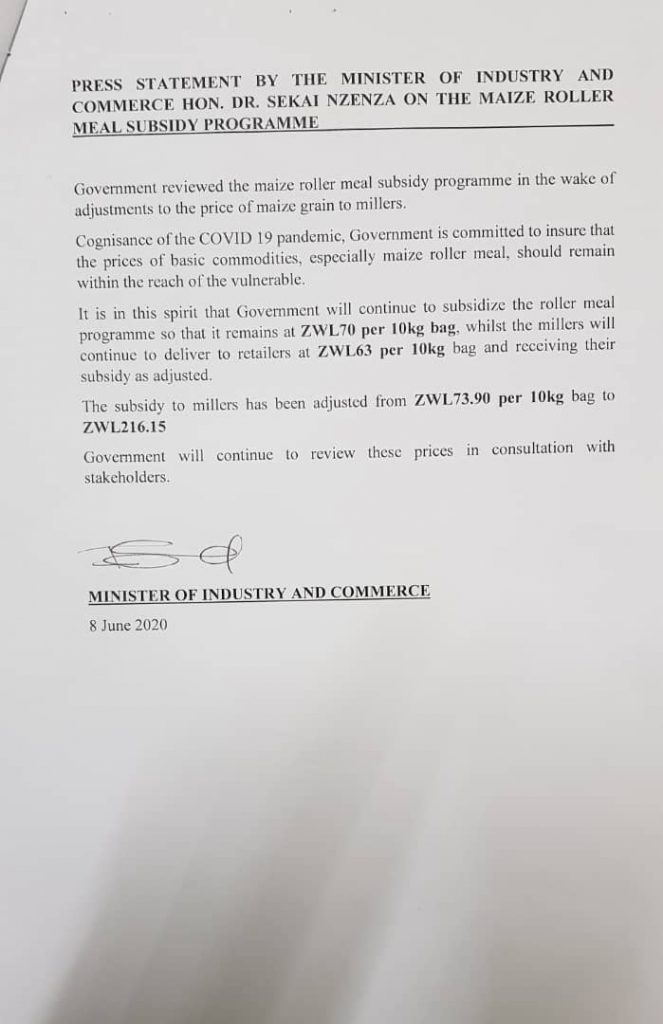 An exercise in futility
An ordinary person like you and me has better luck of finding a pangolin than we have of securing 10kg of subsidised roller meal. Part of the reason for this is because roller meal is so hopelessly underpriced at $70 ZWL. $70 RTGS is worth less than one USD. This creates abitrage opportunities for those with access who use their influence and political muscle to get this mealie-meal and sell it on the black market where the typical price is about $4 USD ($360 ZWL at the time of writing).
While everyone recognises that the lock-down has ruined the economy and people's livelihoods this is just madness. Part of the reason why there are mealie-meal shortages is because there are two many downfalls introduced by this subsidy system. Not least of which is the fact that there is money to be made given the differences between actual prices and subsidised prices. Then there is the fact that retailers are making pittance.
It is understandable therefore than a lot of business leaders and economic commentators have been calling for the price reviewed upwards so as to reduce the government's tax burden. The thing is whatever money the government is paying to subsidise this mealie-meal is just being pocketed by these powerful cartels. The final consumer is not really getting any benefits.