NetOne has led the news today with their new shocking data bundle prices that average more than US$10 per GB using the official rate. Even if you are using the black market rate the prices don't get any better. Although we are very much aware of these new prices we have held off from updating our NetOne bundle's page because we figure this is a mistake-a technical breach that NetOne just doesn't want to admit. For their part, NetOne themselves have intimated that they are in the process of reviewing this latest price hike.
PUBLIC NOTICE

REVIEW OF TARIFFS
In light of the recent tariff reviews, NetOne would like to thank our valued customers for your feedback which is greatly appreciated and is of paramount importance to us.We are in the process of looking into all the concerns that you have raised and we will keep you posted on further developements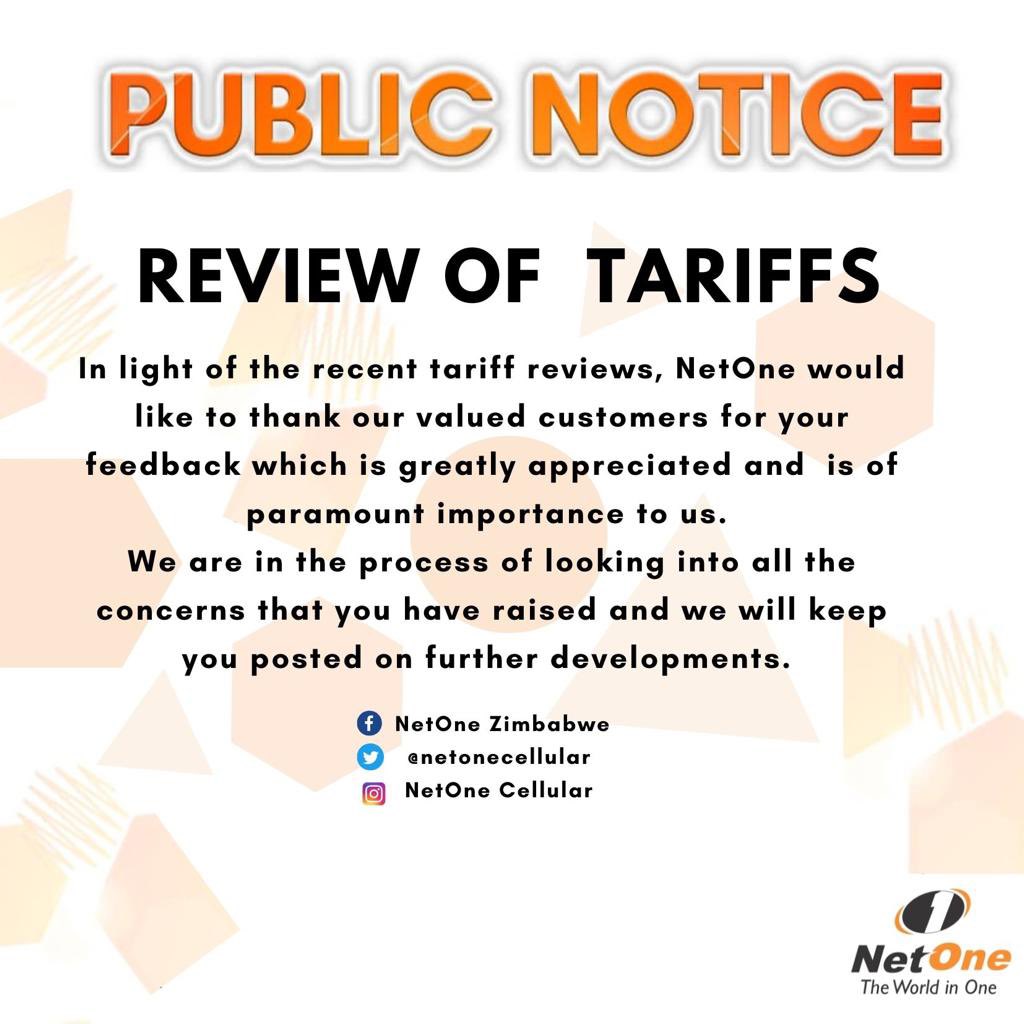 Probably some sort of glitch
The response from NetOne is rather odd though and seems to imply this was not a glitch in which case it would be idiocy. A lot of publications have chosen to believe that this is a genuine hike. We simply don't because as we have said it's idiocy. Not even VSAT operators would charge those prices. They would be out of business. Some believe that because mobile network operators in Zimbabwe charge uniform prices, subscribers will have no choice but to pay these prices as the other two operators, Econet and Telecel, follow suit.
We respectfully believe that is a warped assertion. Why? The prices that NetOne is charging for these bundles are so shockingly high no civil servants, the largest employed group in Zimbabwe, would be able to afford them. The prices are so high even if civil servants tried to spend their entire salaries they would still not afford these bundles.
There are other ridiculous but true analogies we can use as well. For example, if you have 40GB files that you want to send to say, South Africa, you could just fly there and give the recipient the files, fly back and still save money. You could simply fly to South Africa, use their internet bundles and save money on it all.
You should be seeing things from our point of view from now. Even if all internet operators were to conspire and charge these prices they would go out of business because no one would afford their prices. No one would buy data and soon they would start curtailing operations before collapsing. The new prices simply don't make sense. Either this was a glitch or there is a lunatic running around at NetOne. Either way, they will certainly back down and come back to the land reality. T