Econet has done it again, in a leaked letter to the company's suppliers the telecoms giant essentially demands that it's suppliers reduce their prices by 20%. This demand is made towards the end of the letter even after Econet had made note of the current inflationary environment in which all businesses are operating. By it's very definition inflation means prices are going up, asking suppliers to reduce their prices would therefore be counter-intuitive.
We write to update you on the difficult trading conditions affecting our business and to seek your commitment and co-operation in ensuring that we navigate through the tough times together.

The harsh economic environment and the compounded effects of the COVID-19 pandemic have necessitated an urgent review of our business operations.

As Econet we operate in a regulated industry where our tariffs are significantly trailing the upward movement in our operational costs, threatening the viability of our business.

We, therefore, need to take drastic measures now to safeguard the business and ensure we remain viable so that we are able to continue offering our services to our customers and to retain our suppliers.

It is in this context that we request that all our suppliers of goods and services to Econet Wireless Zimbabwe bear with us by reducing their prices to Econet by at least 20% with effect from May 1, 2020.

We greatly value our partnership with all our suppliers, who are a key stakeholder in our business. As we take this necessary pain to protect our business, we sincerely hope that we will share in the benefits when the economy turns around.

Econet's letter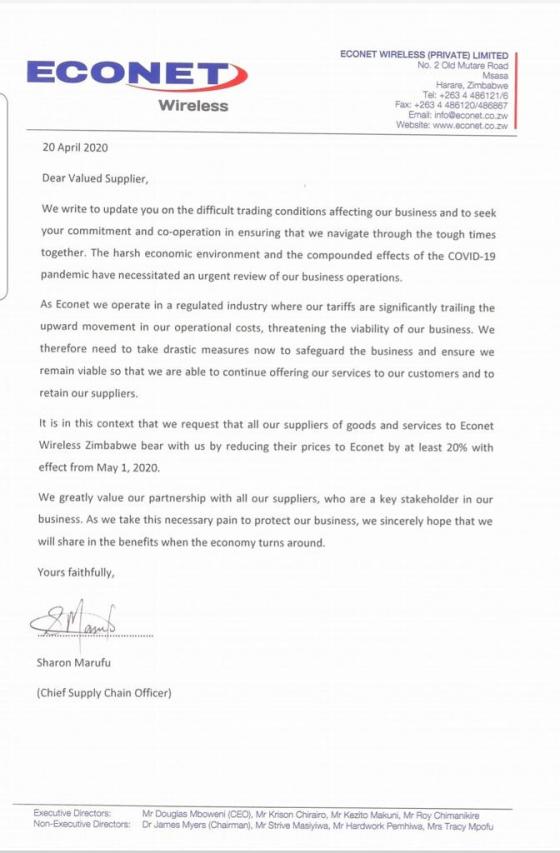 This is not the first time
This is by no means the first time that Econet has written such a letter, if memory serves. To be fair, Econet does have a massive pull considering their size. This means that most of their suppliers are probably beholden to the telecoms behemoth which allows the company to write such letters.
However, as our friends at Techzim note, things are difficult for everyone including those suppliers who are being asked to arbitrarily cut their prices by 20%. This will probably spell doom for some of them or will result in compromised service.