On Monday the Zimbabwe Stock Exchange (ZSE) had to institute a trading halt on its ZSE markets after a surge in the ZSE All Share Index. This move was made because on average the prices of all the shares trading on the ZSE had gained value in value by about 10% in the space of a few hours compared to what the prices were on Friday. This halt was implemented as an emergency regulatory measure to prevent panic-selling and curb manic-buying on the exchange.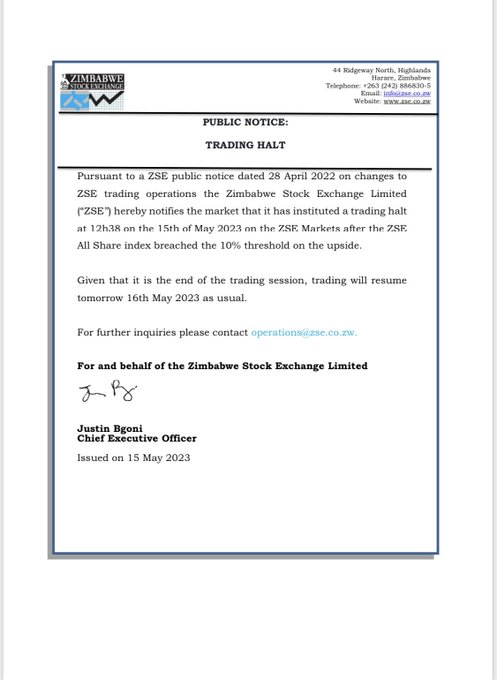 While no reason has been officially given as to why shares gained that much value in the space of hours it is not really a mystery. Investors are looking for stable investments as the local Zimbabwean currency (ZWL) continues to lose value, causing a spike in black market rates. As a result, the ZSE has become an easy target for investment. This increase in demand has led to a massive gain in share prices over recent weeks but it seems that given black market rate movements over the weekend those holding ZWL over the weekend felt they needed a safe haven to preserve value.
The ZSE All Share Index indicates the performance of the Zimbabwean stock market, representing both local and foreign investors. The Index is calculated using the market capitalization of all listed companies on the exchange. It does not include shares listed on the VFEX which is denominated in USD. In fact, there has been barely any movement on the VFEX with very little change in the price of listed shares there as shown by the VFEX price sheet for 15 May 2023.
The recent spike in the All Share Index has caused investors to take notice and wonder about the future of the Zimbabwean economy. The surge in demand for the ZSE as an investment option highlights the need for the government to take action to address the underlying economic issues that are causing the devaluation of the ZWL. Until this is done, investors will continue to flock to the ZSE in search of a safe haven for their money. It is also an indication that markets are not satisfied by some of the measures that were recently announced by the treasury in a bid to stabilise the ZWL.
While the temporary halt may help to stabilize the market, it is important for the government to take action to address the underlying issues causing the devaluation of the ZWL. Only then can the ZSE truly become a stable investment option for investors.